4 Color 1 Station Screen Printing Start Kit
Screen printing is arguably most versatile in printing, almost everything can be used as substrate. Our company provide this 4 color screen printing package with all stuff needed by a small screen printing workshop. We also show buyers skilled operation and application by words and video, achieving integration of technique ,equipment, material and service.
Besides, if you want to buy screen stretcher, exposure unit, flash dryer and other screen printing equipments, you can also find from our warehouse or just contact with us. So why still hesitate? Act now!!!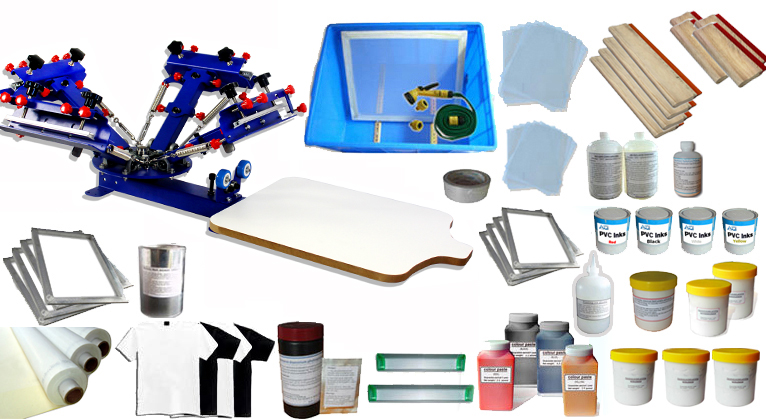 4 Color 1 Station Screen Press (006522)
2015 Table Type 4 Color 1 Station Single-Rotary Screen Press can simultaneously install four screen plates and the screen Holder can rotate independently after installation, which is available for four colors' overprinting and making progressive proofs of screen printing business.
Comparing with the original 4color 1 station printer, this new type machine has a function of micro-adjust/registration. If you want to do precise color matching, you can use those small red handles to move the screen frame right or left slightly. It will be a good choice for colorful printing.

 
Parameter:

Platen size:45*55cm(18*22inch)

Machine size: 130*91*37cm/50*35*14inch

Net weight:29KG/64lbs

Packing size:86*50*25cm/34*17*10inch

Gross weight:35KG/77lbs
Washout Tank & Printing Materials (006532)
NOTE: All the items related in the following are all well packaged into one box; item number is 006532.
Washout

is one of the most important processes during screen printing. Based on the customer and market, our company R&D this washout tank furnished with water tank, automatic pressurizing water spray gun and screen frame clapboard, economical, multifunctional, convenient to use.

Specifications

| | |
| --- | --- |
| Internal dimension | 26"*20"15"(66*50*37CM) |
| Crate dimension | 31"*24"*17"(78*60*44CM)  |
| Net weight | 15LB(7KG) |
| Shipping weight | 20LB(9KG) |
1 9.5" Emulsion scoop coater
1 14" Emulsion scoop coater
4 13" Squeegee
4 18" Squeegee
3 yards 60 Screen Mesh
3 yards100M & 3 yards 200 Mesh
4 10.5"x15" Screen Frame
4 16"x20" Screen Frame
20 sheets A3 Transparency Film
20 sheets A4 Transparency Film
1 roll of aluminum tape


4 pcs of Spatulas & 4 pcs of T-shirts

Screen Frame Adhesive
1 bottle/2.2 Lb (1kg)

Photosensitive Emulsion
1 set/2.2Lb (1kg)

Emulsion Hardener
1 bottle/2.2 Lb (1kg)

Pallet Adhesive
1 bottle/1.1Lb (0.5kg)
Emulsion Remover Powder
1 bottle/0.22 Lb (100g)
Ink Thinner
1 bottle/2.2Lb (1kg)

3 bottles White Paste/2.2Lb (1kg)
2 Transparent Paste/2.2Lb(1kg)

4 Pigments: 2.2Lb(1kg)/bottle
scarlet, yellow, blue, black

4 PVC Inks: 2.2Lb (1kg)/can
black, white, yellow, red
Item Included:
1) 1 set of 4-1 color screen press (006522)
2) 1 set pf 4 Colors printing materials kit (006532) which includes the following items:
01)1 Washout tank (006008)
02)1 9.5"Emulsion scoop coater (007002)
03)1 14"Emulsion scoop coater (007001)
04)20 sheets of A4 transparent Film (007003)
05)20 sheets of A3 transparent Film (007004)
06)1.39X3Yard 60#screen fabric (007202)
07)1.39X3Yard 100#screen fabric (007204)
08)1.39X3Yard 200#screen fabric (007209)
09)4 10.5"x15" Aluminum screen frame (007241)
10)4 16"x20" Aluminum screen frame (007261)
11)1 bottle of Screen frame adhesive (008000)
12)1 set of Photographic emulsion (008401)
13)1 bottle of Remover Powder (008417)
14)4 13" (33cm) Squeegee (007347)
15)4 18" (46cm) Squeegee (007350)
16)4 Spatulas
17)1 Aluminum Frame Tape (008433)
18)3 bottles of White Paste (008242)
19)2 bottles of Transparent base (008252)
20)1 bottle of Scarlet Pigment (008060)
21)1 bottle of Yellow Pigment (008061)
22)1 bottle of Blue Pigment (008062)
23)1 bottle of Black Pigment (008064)
24)1 bottle of Ink thinner (011032)
25)1 bottle of Hardener (008440)
26)1 bottle of Pallet adhesive (008450)
27)1 bottle of Red PVC ink (008014)
28)1 bottle of Yellow PVC ink (008015)
29)1 bottle of Black PVC ink (008018)
30)1 bottle of White PVC ink (008019)
31)4 T-shirt (color random)